Newton's Third Law stipulates that for every action, there is an equal and opposite reaction. In physics, this happens at the same time. Politically, it may not occur at the same time.
Call it Newton's Third Law of Politics.
I once wrote that while the left wing media was playing checkers, Trump was playing chess. That just happened in these hearings. I knew immediately by the confidence with which Trump ordered the FBI investigation.
He knew everything. He was setting democrats up.
The FBI investigation is said to be finished perhaps by today and a vote on Kavanaugh is planned for Friday. Feinstein made a feeble effort to once again delay everything.
JUST IN: Top Senate Judiciary Committee Democrat Dianne Feinstein says Friday Senate vote on Kavanaugh would be too soon pic.twitter.com/YuKXNFCerG

— Reuters Politics (@ReutersPolitics) October 2, 2018
Now for the bad news for democrats.
Ford is a liar.
Prior to her committee appearance, Ford scrubbed her social media, her high school yearbooks were taken off line and her criminal record was scrubbed.
She told the committee a number of lies. Margot Cleveland:
But the problem for Ford is not that she doesn't remember everything: It is that everything she remembers changes at her convenience.

First, Ford's testimony that the assault occurred in the summer of 1982, when just 15, conflicted with both her therapist's notes and the text message Ford sent to the Washington Post. According to reporter Emma Brown, Ford claimed she had been assaulted in the mid-1980s; and the therapist's notes stated Ford had been the victim of an attempted rape in her late teens. But by that time, Kavanaugh was attending Yale, so Ford's recasting of the attack to the summer of 1982 is suspect.

Ford's retelling of the alleged sexual assault also included several conflicting accounts of the number of individuals at the gathering. The therapist's notes stated that four boys had attempted to rape Ford. (Ford claims her therapist confused the total number of boys at the party with the number of boys who had attacked her.)

Later, in her July letter to Sen. Dianne Feinstein, Ford again placed the number of individuals at the party at five, stating the gathering included her and four other individuals. But Ford then identified the four by name, and that group included three boys and one girl. And finally, during her Senate testimony, Ford unequivocally stated that "there were four boys I remember specifically being there," in addition to her friend Leland Keyser.

Another significant change in the scenario came when Ford testified about the location of the party. She had originally told the Washington Post that the attack took place at a house not far from the country club. Yet, when Mitchell revealed a map of the relevant locations and reminded Ford that she had described the attack as having occurred near the country club, Ford backtracked: "I would describe [the house] as it's somewhere between my house and the country club in that vicinity that's shown in your picture."  Ford added that the country club was a 20-minute drive from her home.

Finally, Ford altered her description of the interior layout of the home and the details of the party and her escape.  A "short" stairwell turned into a "narrow" one. The gathering moved from a small family room where the kids drank beer (and which Ford distinguished from the living room through which she fled the house) when she spoke to the Washington Post, to a home described in her actual testimony as having a "small living room/family room-type area." And in an obvious tell to the change, Ford suggested that she could draw a floor plan of the house.
And then there's this letter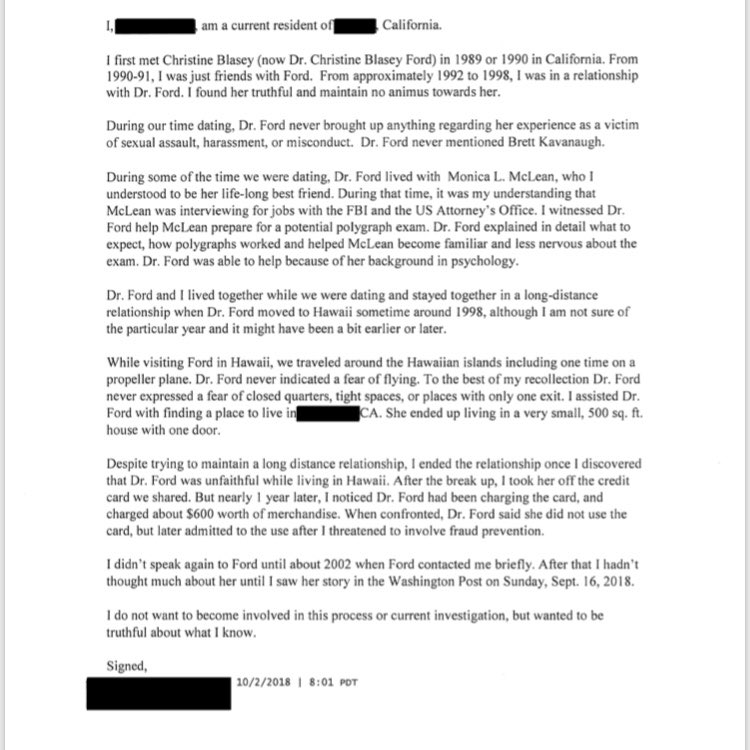 During her testimony Ford denied ever assisting in preparation for a polygraph.
And here's the proof that Grassley already had the goods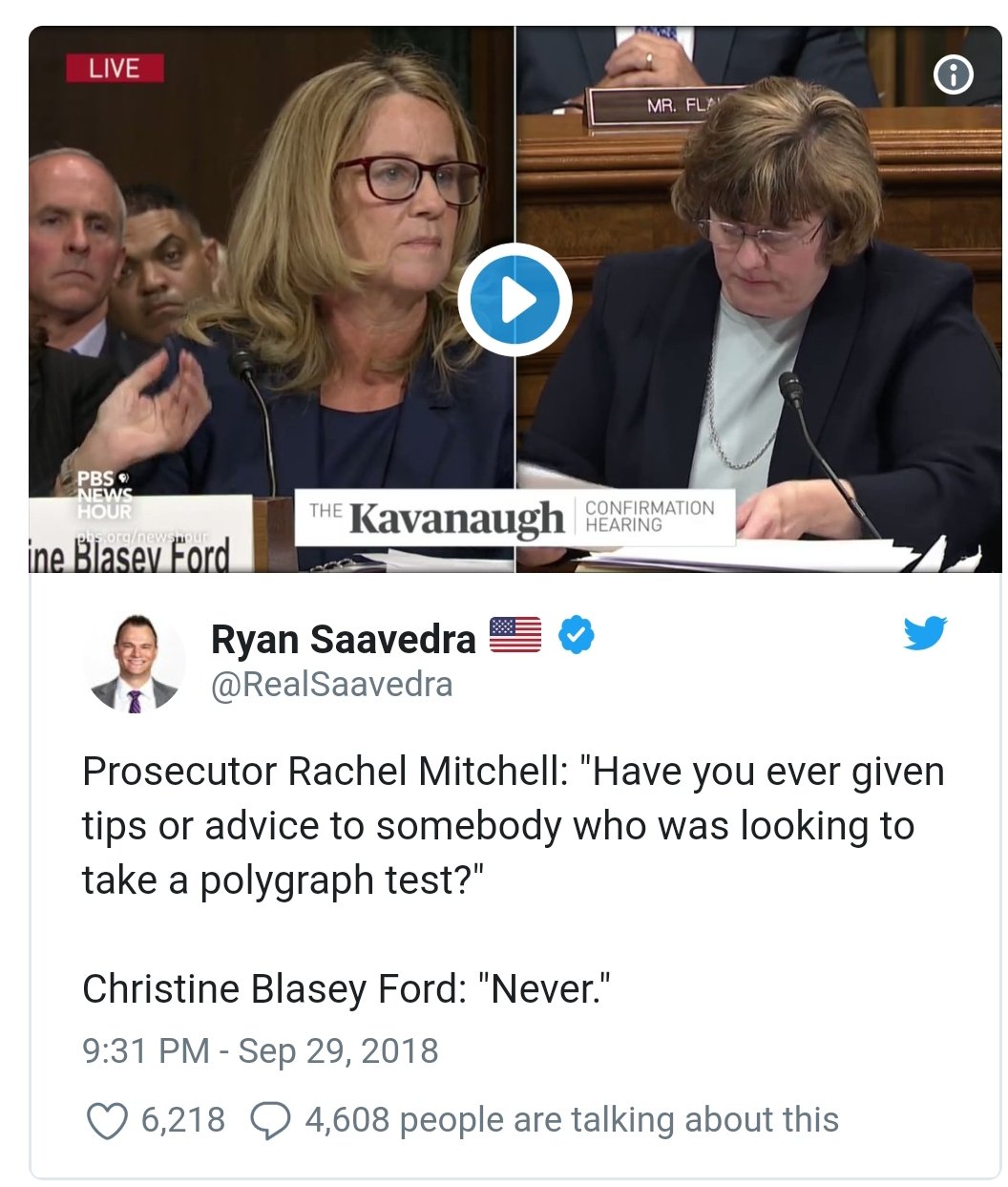 Now Grassley tightens the noose on Ford's legal team
Must read: Last night's letter from @ChuckGrassley to Dr. Ford's legal team—>

The Senate still has not received therapist notes or polygraph details, both of which were shared with the Washington Post and pointed to as evidence supporting Ford's account. pic.twitter.com/cGrFiCmIx5

— Senator Hatch Office (@senorrinhatch) October 3, 2018
Ford's lawyers may have a big problem. They may not have told Ford about Grassley's offer
Question: "Okay. Was it communicated to you by your counsel or someone else that the committee had asked to interview you, and that they offered to come out to California to do so?"

Counsel: "I'm going to object, Mr. Chairman, to any call for privileged conversation between counsel and Dr. Ford."

Question: "Could you validate that the offer was made, without her saying a word? Is it possible for that question to be answered without violating any counsel relationships?

Ford: "Can I say something to you? Do you mind if I say something to you directly? I just appreciate that you did offer that. I wasn't clear on what the offer was. If you were going to come out to see me, I would have happily hosted you and been happy to speak with you out there. I just did not — it was not clear to me that that was the case."
democrats, out of gaslighting, now demand that the FBI findings be kept private.
.@SenFeinstein indicates that the FBI report on Kavanaugh should NOT be made public: "It would seem to me that if people are going to be identified this ought to be held very close and not."

"I think the investigation ought to be closely held," she reiterated.

— Elizabeth Landers (@ElizLanders) October 2, 2018
They got to eviscerate Kavanaugh in public but now want his vindication kept private? That's bullsh*t.
And Corey Booker tells us what we knew all along- he doesn't give a damn whether Kavanaugh was innocent.
He never did. They never did.
democrats are currently whining that the FBI has not interviewed Ford. They may yet, just prior to her receiving a grand jury subpoena.
Chaser:
https://twitter.com/WhoWolfe/status/1047210110307721217
Chaser #2
Washington Post Raised No Concerns About Justice Breyer's Fitness After Reporting He Was Arrested For Underage Drinking https://t.co/vQ2T3us5CA pic.twitter.com/yi7qMRaHmR

— Daily Caller (@DailyCaller) October 2, 2018