Kyle Rittenhouse was acquitted today. Anyone who paid even a modicum of attention to the trial could not come away without concluding that Rittenhouse acted in self defense. The verdict enraged the left wing media but more, it revealed the searing hatred some have of all things white. All day the left wing lunatics struggled mightily to inject racism into something that was not racist. All four of those involved were white. As you will see, MSNBC and CNN had countless numbers of people believing that Kyle Rittenhouse randomly shot three black men. As you will see, MSNBC and CNN outright lied about what happened in Kenosha. They lied about Rittenhouse carrying a gun across state lines. They lied about Rittenhouse's weapon. They had their gullible listeners believing that crossing state lines was criminal. Kenosha burned for two nights before Rittenhouse arrived. They created a false narrative and are consumed with bitterness that it has been blown up. Let's begin.
Here an NBC analyst argues against self defense:
NBC News legal analyst complains about the "toxic" and "really dangerous combination of liberal self-defense laws…and the accessibility of guns" that was exploited by Kyle Rittenhouse even though it was his fault that he "put" himself "in danger" pic.twitter.com/d7LkoeXEPd

— Curtis Houck (@CurtisHouck) November 19, 2021
The Supreme Court has ruled that the Second Amendment assures the right to self defense.
Rittenhouse went to Kenosha to protect property and act as a medic. Next we have a left winger lamenting a proper verdict.
Depressing. And pathetic.

— TJ Ducklo (@TDucklo) November 19, 2021
Here an irresponsible Congresswoman posted a tweet filled to the brim with lies. And it's about racism.
A 17 year old white supremacist domestic terrorist drove across state lines, armed with an AR 15.

He shot and killed 2 people who had assembled to affirm the value, dignity, and worth of Black lives.

Fix your damn headlines.

— Ayanna Pressley (@AyannaPressley) August 27, 2020
Those three were not there to affirm anything. They were there to riot and burn. See the call for violence:
Left-wing accounts are furious and are inciting mass violence on Twitter after Kyle #Rittenhouse was found not guilty on all the charges. #Kenosha pic.twitter.com/M62aHnqrjB

— Andy Ngô 🏳️‍🌈 (@MrAndyNgo) November 19, 2021
This democrat Congressman libels Rittenhouse as a "murderer."
Naturally the dimwits from Hollywood had to weigh in.
Hollywood is getting its talking points out. pic.twitter.com/Q7xEMPA7oy

— Cassandra (@CassyWearsHeels) November 19, 2021
The ACLU condemns Rittenhouse for crossing state lines and smothers the facts until they are dead.
Despite Kyle Rittenhouse's conscious decision to travel across state lines and injure one person and take the lives of two people protesting the shooting of Jacob Blake by police, he was not held responsible for his actions.

Unfortunately, this is not surprising.

— ACLU (@ACLU) November 19, 2021
The guy who sneers at anyone who can't afford to eat at the French Laundry offers some word salad. He dings Rittenhouse as a vigilante, which is patently false.
America today: you can break the law, carry around weapons built for a military, shoot and kill people, and get away with it.

That's the message we've just sent to armed vigilantes across the nation. https://t.co/yiVLN2v718

— Gavin Newsom (@GavinNewsom) November 19, 2021
This Soros backed tool frees criminals daily and comes from a line of criminals
This verdict demonstrates that our work to make our legal system equal, fair, and just is more urgent than ever.

Prosecutors have a critical role to play in criminal justice reform and securing equal justice under the law.

We will continue our fight for justice.

— Chesa Boudin 博徹思 (@chesaboudin) November 19, 2021
[the_ad id="155722″]
The feckless Mayor of New York city is not satisfied to make a fool of himself not once, but twice.
This verdict is disgusting and it sends a horrible message to this country.

Where is the justice in this?

We can't let this go. We need stronger laws to stop violent extremism from within our own nation.

Now is the time. https://t.co/r8TTicFn0U

— Mayor Bill de Blasio (@NYCMayor) November 19, 2021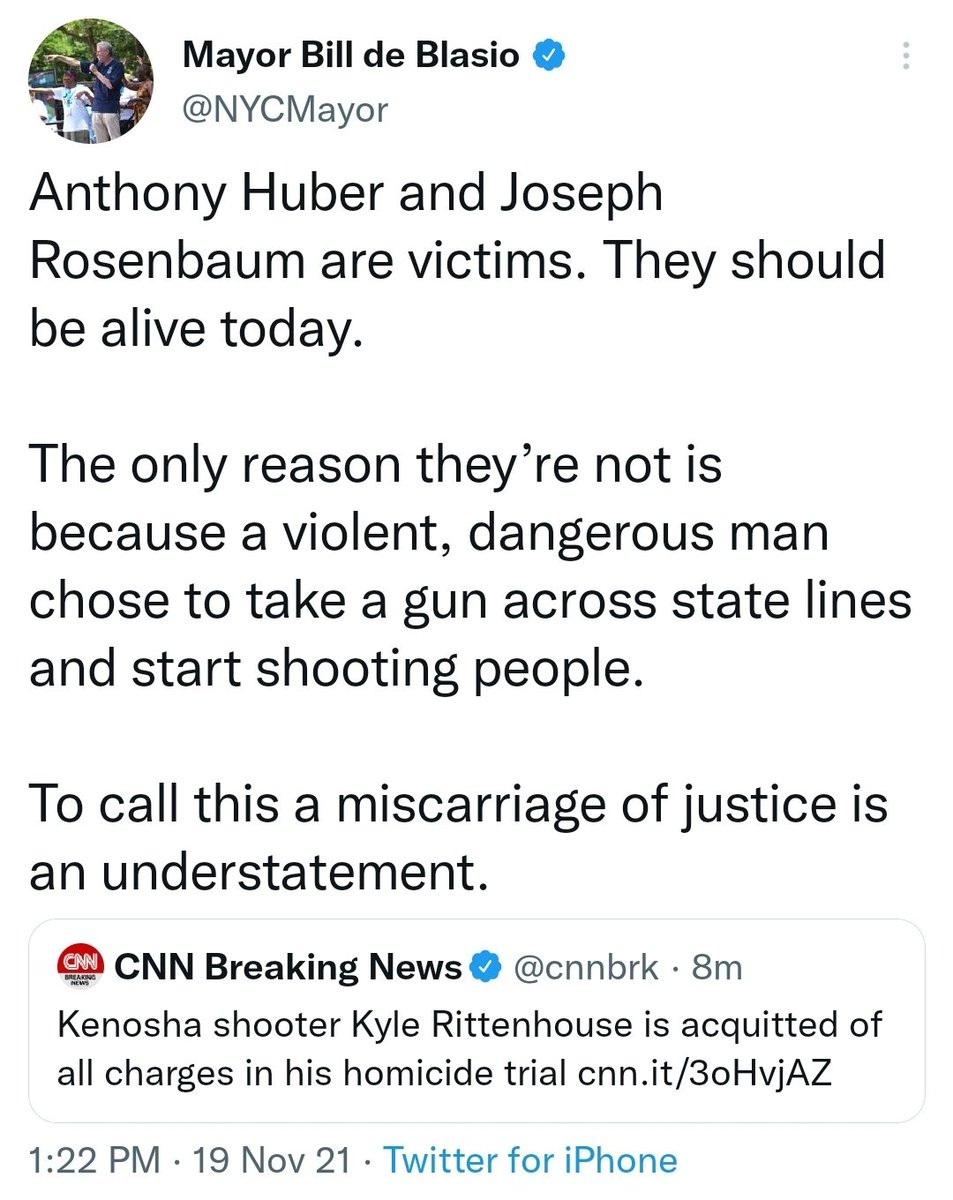 Had they not attacked Rittenhouse they all would be alive and whole.
You knew you could count on this banshee to throw the white supremacist card. She does it all the time.
This is beyond the pale, but that's coming from someone who married her brother to gain entry to this country, got elected in a Somali dominated district, then became a millionaire paying her husband out of her campaign cash.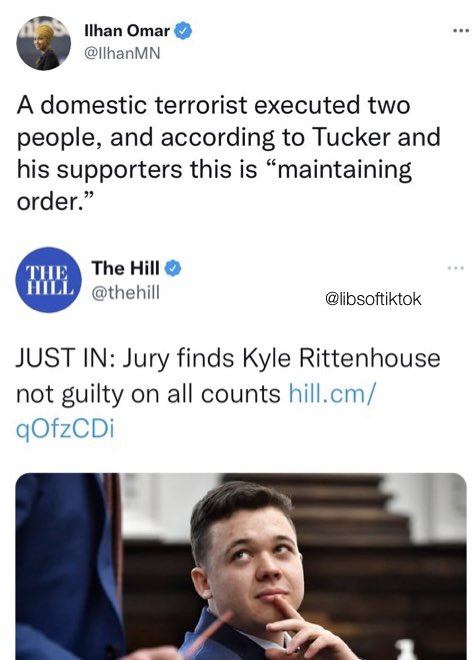 This guy should simply be ignored.
Kyle Rittenhouse being found not guilty does not mean he's innocent

— Aaron Rupar (@atrupar) November 19, 2021
Note how this is framed- the "gun toting white teenager." They make it sound as if the victims were black and  Rittenhouse was firing his gun aimlessly.
BREAKING: Kyle Rittenhouse, the notorious, gun-toting white teenager accused of murdering two people and trying to kill a third during a police-violence protest last August, has been found not guilty of all the charges against him https://t.co/FZe3TW9Xrp

— The Daily Beast (@thedailybeast) November 19, 2021
In the pantry of Cuomo's American values convicted criminals attacking a kid are the victims and he tosses in the white supremacist label.
Today's verdict is a stain on the soul of America, & sends a dangerous message about who & what values our justice system was designed to protect

We must stand unified in rejecting supremacist vigilantism & with one voice say: this is not who we are https://t.co/VOs66OZ2RJ

— Andrew Cuomo (@andrewcuomo) November 19, 2021
This guy- the Democratic Congressional Committee Chairman- is a complete idiot. It wasn't a protest, it was a riot. Jack Blake is not dead. Blake was armed with a knife.
INBOX: DCCC chairman Sean Patrick Maloney taking a far different approach than President Biden in responding to the Rittenhouse verdict. pic.twitter.com/JKYgzjHuGw

— Josh Kraushaar (@HotlineJosh) November 19, 2021
And speaking of ignorant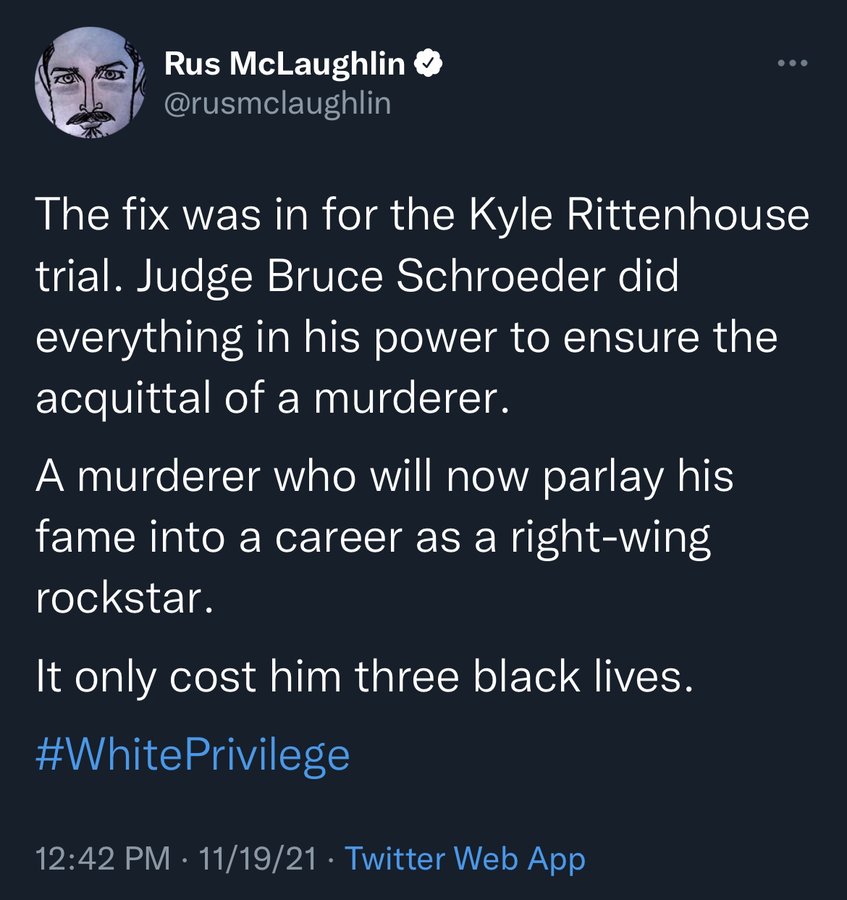 Two people were killed. Both were white.
Politifact again proves why it's not worth dog crap.
Speaking of fact checks, here's @PolitiFact claiming that Trump lied when he said Rittenhouse was trying to get away from protestors and was attacked – both details have since been confirmed by video.

Will you update your inaccurate post, Politifact? Or the gun charge details? pic.twitter.com/eAER1xtknv

— Drew Holden (@DrewHolden360) November 19, 2021
You might think that an alleged "Constitutional lawyer" would be familiar with the case before opining but you would be wrong. Then again, he's on MSNBC.
I join Chairman Nadler in that request. The idea that other vigilantes could take it upon themselves to shoot innocent people to death the way Rittenhouse did and get away scott free is incompatible with the survival of a civilized, law-based society. https://t.co/qsHdzBFy0a

— Laurence Tribe (@tribelaw) November 19, 2021
Our village idiot President said that he disagreed with the verdict. He also said he didn't watch the trial.
Jerry Nadler (D-moron) wants a Federal investigation:
Rep. Jerry Nadler (D., N.Y.), the chairman of the House Judiciary Committee, called on the Justice Department to review the not guilty verdict in the Kyle Rittenhouse case, calling it a "miscarriage of justice."

Nadler pushed a debunked claim about Rittenhouse in his call for the federal review, saying that the teenager was "armed" when he crossed state lines to attend a protest in Kenosha, Wis., where he fatally shot two men and wounded another.
Good luck with that, Jerry. Kyle was a minor at the time.
Every time I thought I was done I found another nugget of liberal stupidity and ignorance
He carried a gun he could not legally have illegally across state lines and killed two people. But, sure, y'all believe in law and order.

— Ida Bae Wells (@nhannahjones) November 19, 2021
Sounds pretty cut and dried. It's also a lie. Just like her 1619 Project.
Now brace your self for the meat of the theatrics- hatred of all things white. I'll sit back and let you read them. Pay attention to how many times you see and hear the words "white" and "white supremacy."
Yes. As we've been saying – for decades.Truth? How we go forward is largely in the hands of white Americans. Is this the country you want? Because these outcomes reflect a system designed to protect your privilege.Are you speaking out, protesting, advocating, voting to change it? https://t.co/s3gcOS57kb

— Sherrilyn Ifill (@Sifill_LDF) November 20, 2021
"If America's permissive self-defense laws and abundant guns open up a vast zone of permissible killing, the precise borders of that territory are shaped by white supremacy."https://t.co/OFB6yR4hou

— Pod Save America (@PodSaveAmerica) November 19, 2021
.@JoyAnnReid on the #RittenhouseVerdict: "This is what we expected to happen. I think we have to keep in mind when we're watching the criminal justice system at work that it was designed to do exactly what it did today." #TheReidOut #reiders pic.twitter.com/7mHz06FvlT

— The ReidOut (@thereidout) November 20, 2021
He goes onto compare white people to cows and "uncouth idiot[s]" chewing on rosemary and complaining about its taste when it's "supposed to go in the soup…of racism." pic.twitter.com/KSv5irlvDS

— Curtis Houck (@CurtisHouck) November 20, 2021
.@DyjuanTatro, a violent criminal convict and the current senior advisor of strategic outreach for @dccc, a group dedicated to electing Democrats to Congress, says there should be "no peace" following the #Rittenhouse jury decision. #Kenosha pic.twitter.com/Pss4e2dew1

— Andy Ngô 🏳️‍🌈 (@MrAndyNgo) November 20, 2021
IRONY ALERT: Al Sharpton warns BLM activists about "right-wingers" who are "baiting violence" and stirring division b/c "some of the violence" and burning of buildings in Minneapolis was done by the right.

He adds this racist rule is a "startling" sign of where "America is" rn pic.twitter.com/RQ2PQYTkTa

— Curtis Houck (@CurtisHouck) November 20, 2021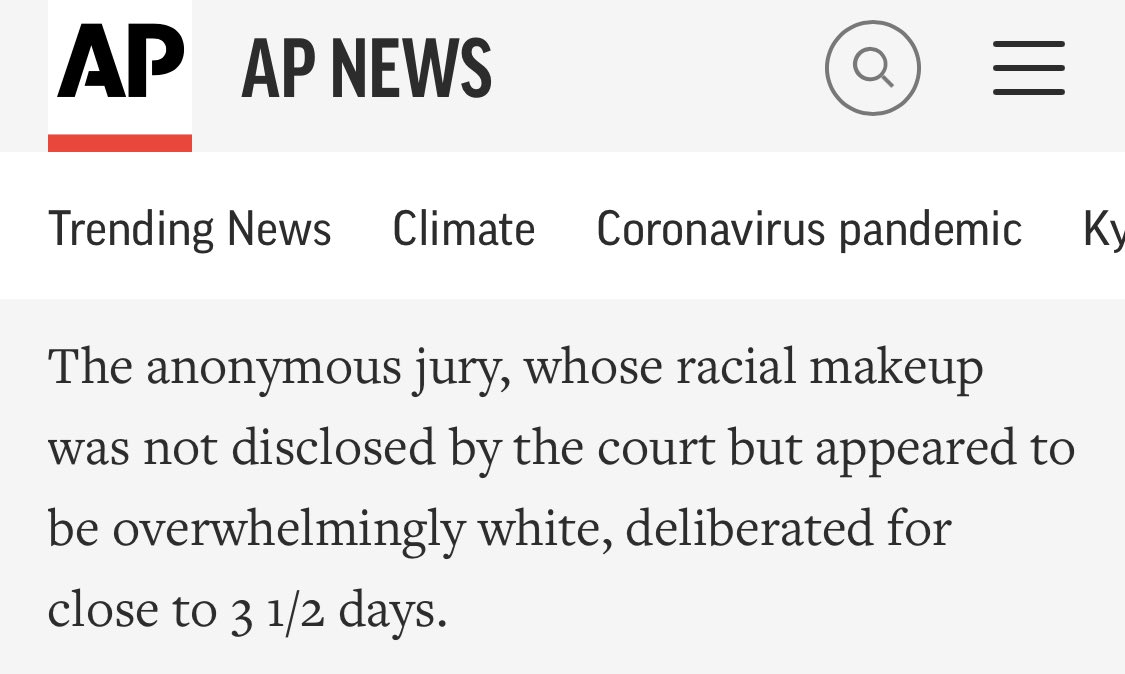 Jason Johnson: "By allowing [Rittenhouse] to…potentially commit other crimes, this jury sent the final and loudest warning to white America about the dangerous rise of white nationalist terror[.]"

He adds Rittenhouse won b/c the white guys he shot were seen as "race traitors" pic.twitter.com/fpMcL8Uf1O

— Curtis Houck (@CurtisHouck) November 20, 2021
Jason Johnson: "It's a warning to every white suburban with a Black Lives Matter poster in their window," "every youth leader," & "every white dad" with "a BLM sticker" that they too "can be shot by" white people who opposes "their desire to see America live up to its potential" pic.twitter.com/JYHqojqr8D

— Curtis Houck (@CurtisHouck) November 20, 2021
How badly did the media distort and misrepresent about this story? This bad
The overseas media bought into the left wing narrative- that Rittenhouse shot three black men.
The Brazilian media was similarly sucked in
Brazil's biggest newspaper, last week: pic.twitter.com/fcezhSig9G

— Glenn Greenwald (@ggreenwald) November 19, 2021
This is disappointing, brutal and sad and I do not commit these words easily but it is inescapable. The sheer ignorance of the facts of the case and the continuing deceit is astonishing and nauseating. They so badly wanted this to be about white supremacy. It wasn't. It never was but they couldn't let it go. They fashioned Grosskreutz, Huber and Rosenbaum into proxies for their vitriol filled diatribes. Some of the above are stupid and ignorant of the facts. Most are not.  All involved in the shootings were white. Of all of them Rosenbaum, who more than once said "shoot me, n***a"  more than once, comes off more like a white supremacist than the others. On their racial stove was cooking their pot of white hatred and it finally boiled over. White supremacy was an artifice necessary to shield them from scrutiny but take away supremacy from white supremacy and all you have left is white.
Finally- some wisdom appeared like a ray of sunshine.
If you are shocked by the Rittenhouse verdict reconsider what media you consume: https://t.co/zIMveD3IXN

— Bari Weiss (@bariweiss) November 19, 2021
If you consume scat, you become scat. Who above reported that those shot were attacking Rittenhouse? Who above mentioned their criminal histories? They were defending a guy who anally raped 5 young boys. They outright lied about what happened. They continue to lie. That is the state of the left wing media today. There is a video that absolutely proves it.
While we're at it, let's thank Julio Rojas, Drew Hernandez and Richie McGinniss. Without them Kyle Rittenhouse would be a dead man.