AOC, formerly known as Sandy Cortez, attended a grand Gala at the Met yesterday.
The Met Gala is an entirely exclusive event attended by pop stars, actors, musicians, and scores of millionaire famous people with an estimated ticket costing $35,000 on an invitation-only basis. Noted The Cut:

It's big money and a lot of celebrities. Even if you can afford a $35,000 ticket, you have to be approved by Wintour and placed by Vogue at a table. The seating chart is normally drafted in December, a full five months before. They take into account where people and their exes are sitting, and who can see whom, and place everyone individually.
The dress was designed by Aurora James
The congresswoman's dress was reportedly designed by Aurora James of Brother Vellies, who has an estimated net worth of $9 million. Speaking with Vogue, James, founder and creative director of Brother Vellies and the founder of the 15 Percent Pledge, said she wanted AOC's statement to "push the country forward."

"We can never get too comfortable in our seats at the table once they've been given," James said. "We must always continue to push ourselves, push our colleagues, push the culture and push the country forward. Fashion is changing, America is changing."
AOC described James this way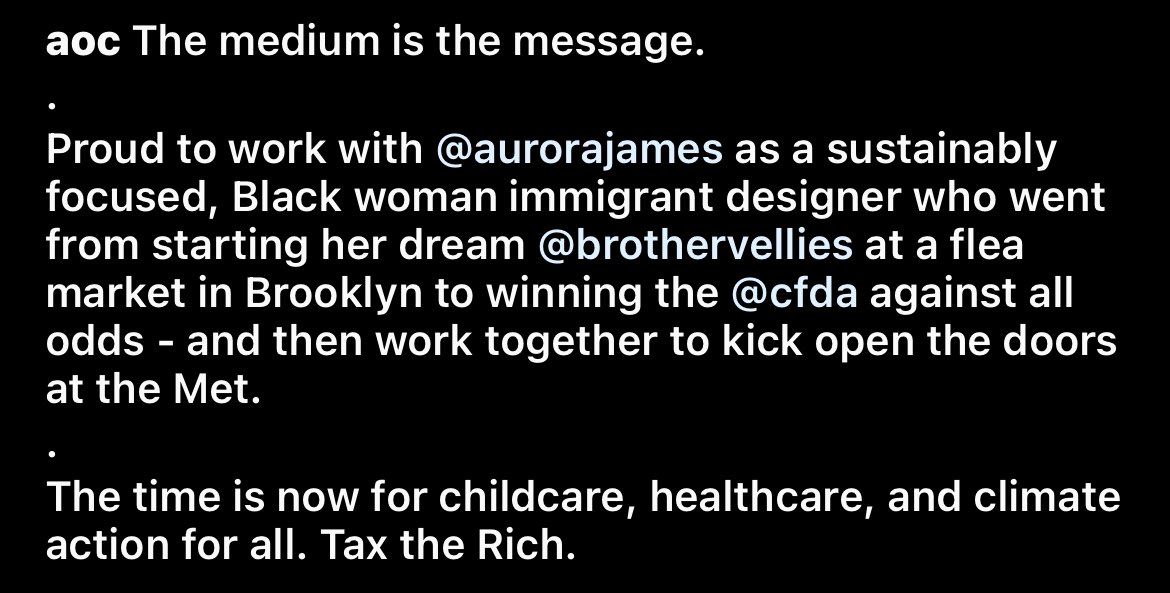 "immigrant"

James is from Toronto. James' website says this:
Toronto-native and New York City-transplant, Aurora James is the Creative Director and Founder of luxury accessories brand Brother Vellies. Founded in 2013 with the goal of keeping traditional African design practices and techniques alive, while also creating and sustaining artisanal jobs, Brother Vellies is now handmade across the globe.
I might be missing something but that gown doesn't look African to me. I have seen no mention of the value of the gown.

About her appearance, which has drawn some heavy criticism, Cortez tweeted this:
And before haters get wild flying off the handle, New York elected officials are routinely invited to and attend the Met due to our responsibilities in overseeing and supporting the city's cultural institutions for the public. I was one of several in attendance in this evening.
It's her responsibility to party with wealthy elite! She went to a $35,000 per ticket affair to stick it to the man? That's some comedy gold right there.





Here she is in action making the rich pay:
NEW – Democrat Rep. AOC wears a "Tax The Rich" dress at #MetGala, where a ticket costs $30,000 to attend.pic.twitter.com/V9B7UGoGX5

— Disclose.tv (@disclosetv) September 13, 2021
She was torched for this audacious display of hypocrisy
Tickets to the Met Gala cost $35K 😂

I'm starting to think AOC is just an elaborate Republican prank https://t.co/5kYVCfRLHh

— Emily Zanotti (@emzanotti) September 14, 2021
Did someone say masks?
The truth is that Cortez is just another phony using her "tax the rich" theme as an excuse for her to cruise shoulder to shoulder among the bourgeoise. Her single most notable achievement was to ward off 25,000 Amazon jobs from her district. Now she's a celebrity and she is enjoying every second of Hollywood type attention while thinking she's fooling us all. She's an idiot.
But her hypocrisy has spawned some pretty funny memes. This from holla boy
There are lots more
And perhaps my favorite
An ethics complaint has been filed against Cortez:
Ocasio-Cortez's tweet didn't definitively state whether she was given a free ticket to the event.

The AAF's complaint, obtained by Fox News, asks the Office of Congressional Ethics to "immediately open an investigation" into Ocasio-Cortez and whether she accepted an "impermissible gift" to attend the gala or violated any campaign finance laws. "Without prompt investigation and enforcement of Congressional Rules, the American people are likely to lose faith in the ability of Congress to police its members," the complaint says.

The complaint states that since Ocasio-Cortez described her attendance at the Met Gala as part of her official duties, the "receipt of the gift" must fall under either the widely attended event or charity event exemptions as defined by the House rules.  The AAF argues that the congresswoman's invite fails on both exemptions, because the gala was not widely attended and because the invitations are overseen by Conde Nast, a for-profit company.

Ocasio-Cortez's office did not respond to Fox News' request for comment.
She "broke the fourth wall" — that again — and forced a bunch of Biden Democrat celebrities and other assorted cultural liberals in attendance to be deeply uncomfortable because she wore a designer gown calling on the the rich be taxed. She did it all for you.
Har.