by Laura Loomer
President Donald Trump's legal team has filed a memorandum of law in support of a motion for a mistrial in his civil fraud case in New York. "In this case, the evidence of apparent and actual bias is tangible and overwhelming," Trump's attorneys wrote in the motion. "Such evidence, coupled with an unprecedented departure from standard judicial procedure, has tainted these proceedings, and a mistrial is warranted."
The "apparent and actual bias" Trump's team is referring to is the anti-Trump bias of the Engoron family. Judge Arthur Engeron is presiding over the civil fraud case against Trump that was promised to voters by New York Attorney General Letitia James, who campaigned on prosecuting Donald Trump.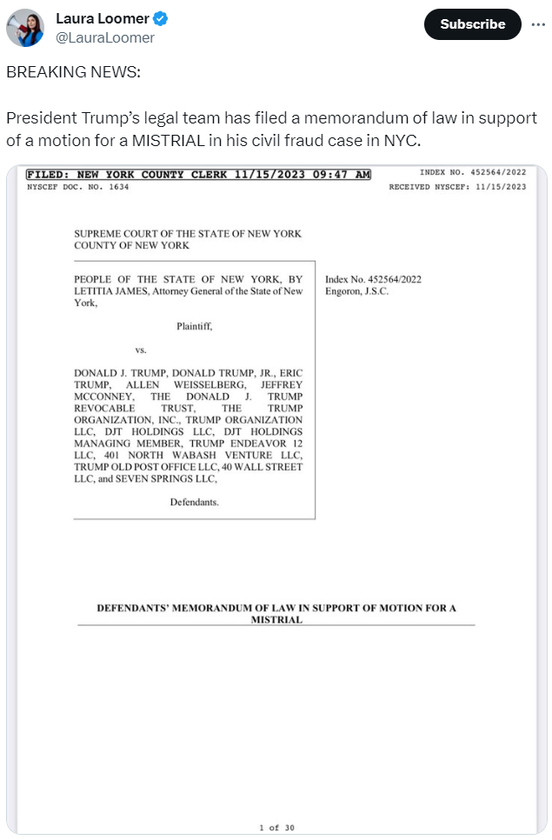 The show trial has included a gag order imposed by Engoron banning Trump and his lawyers from mentioning the extreme political bias of the New York court where he's being prosecuted. He's been hit with multiple fines for exercising his free speech and supposedly violating the gag order.
The anti-Trump bias goes much deeper than Arthur Engoron. I've uncovered the X account of Engoron's wife, Dawn Marie Engoron, and it's full of posts and re-posts showing an intense hatred of President Trump. Before she locked her account, Dawn Engoron's posts included an image of Trump as an inmate in an orange jumpsuit with his head shaved, an image of an old woman spray paying "FUCK TRUMP" on a wall, and a post replying to Representative Marjorie Taylor Greene mocking Trump's lawyer Alina Habba for doing her job.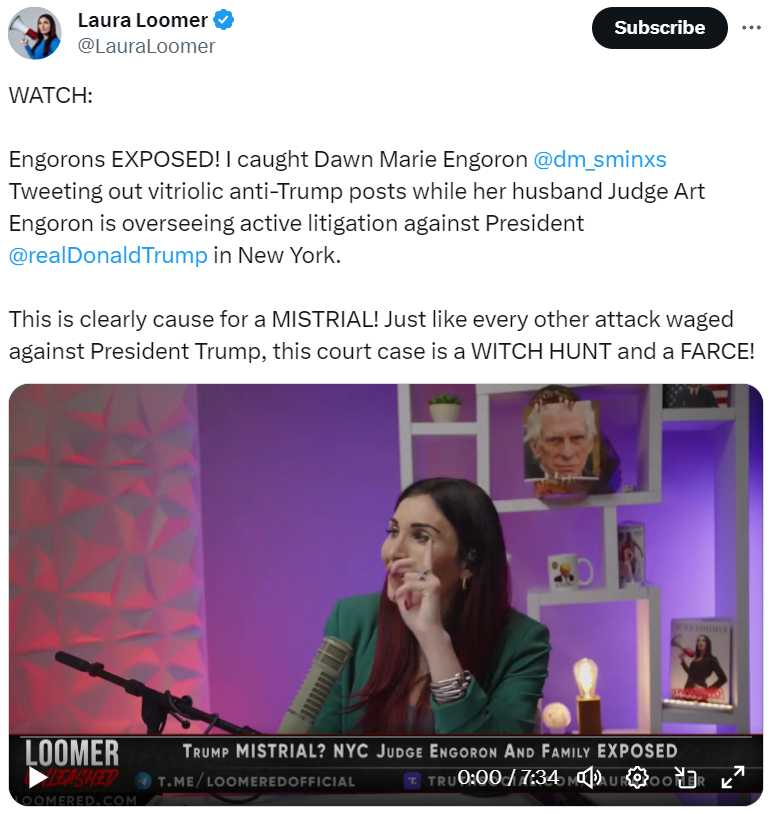 Furthermore, Judge Engoron's son, Ian Engoron, deleted his LinkedIn account after I discovered that he's an "Associate Shareholder" at the activist New York-based Olsham Law Firm. Ian Engoron has been attending Trump's trial in New York in person, and it raises questions of whether Ian Engoron's law firm is benefiting financially and reputationally from the political persecution of Donald Trump helmed by his father.
It all adds up to "apparent and actual bias," just like Trump's legal team is alleging in its motion for a mistrial. If the motion is denied, it will be further proof that the justice system in New York is being weaponized against Donald Trump for political purposes.