by Revolver
A deranged trans shooter killed six in a horrific massacre at a Nashville Christian school back in April. The deceased shooter, Audrey "Aiden" Hale, left behind a manifesto. Nashville Police refused to share it with the public. We learned this week why.
In screenshots obtained by Steven Crowder, Hale vented her murderous rage towards whites, whom she referred to as privileged "crackers." Despite being white herself, the shooter wanted to kill those like her. This rhetoric isn't found in the dark corners of 4chan. Anti-white hate is part of school curricula throughout the country. It's broadcast by television channels and popular films. And it goes viral on social media. The demented shooter was merely repeating what she learned from the society around her.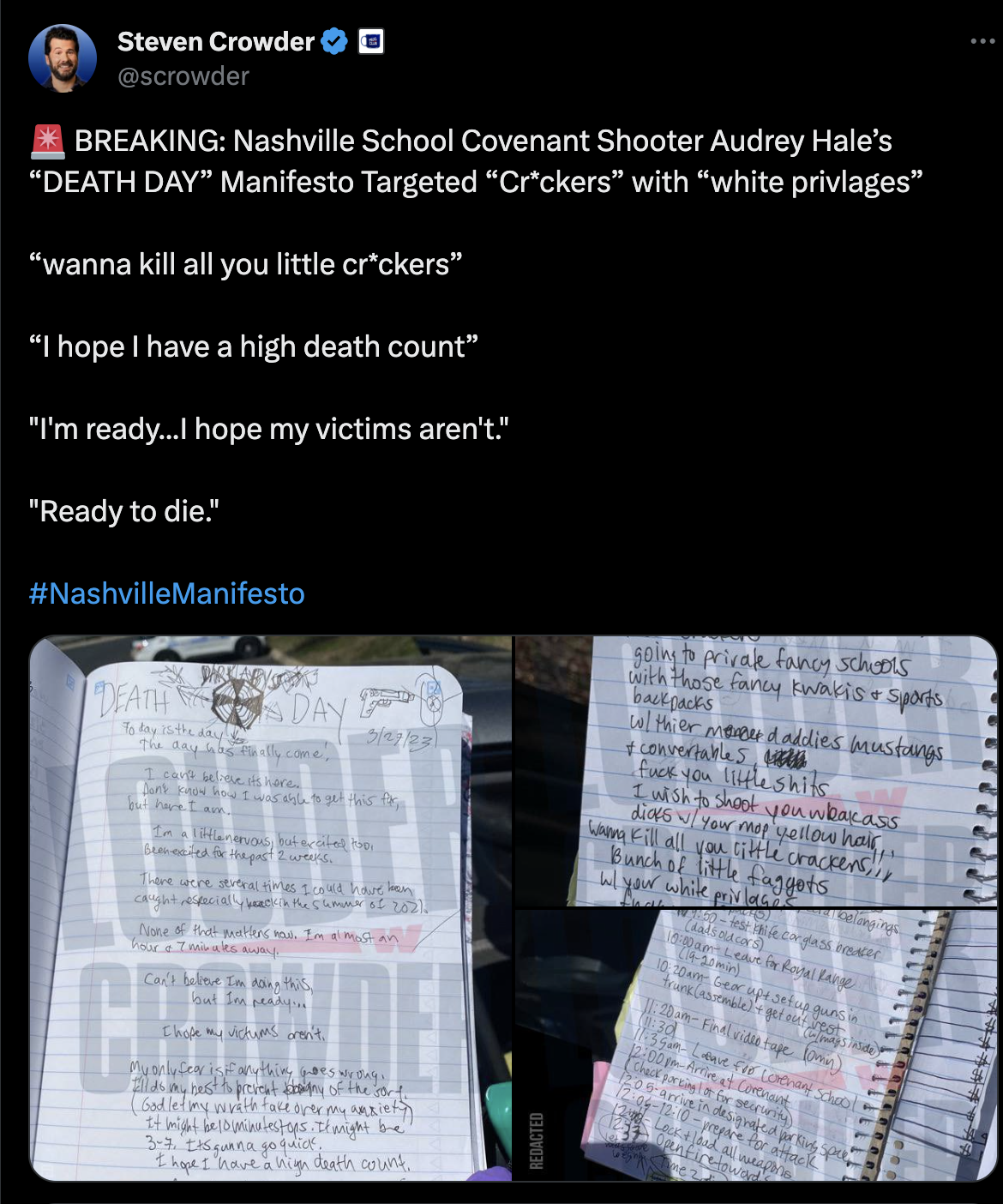 The Tennessee legislature has sought to combat that heinous ideology by banning Critical Race Theory and other harmful forms of leftist indoctrination in schools. The shooter's manifesto highlights the need for more to be done.
Yet, the police assiduously kept the people in the dark about the hateful manifesto. Officials even claimed the manifesto didn't express any specific political or social agenda. Recent reports have suggested multiple officers suspected of the leak have been suspended. And the chief of police, John Drake (more on him soon), has expressed extreme frustration over the leak. Although future developments could very well reveal there may be more to the manifesto than the anti-white hate, it is clear the police department would rather not notice the racial animus expressed by the confused transexual Hale.
Hale was taken down by heroic white officers from the Metropolitan Nashville Police Department. They saved several lives that day by rushing to put down the shooter. Sadly, their boss wants fewer cops like them. Nashville's black police chief John Drake's mission since taking office three years ago has been to make the force more "diverse" and compliant with the Left's police agenda. There could very well have been national pressure from Merrick Garland to suppress the manifesto, for reasons that may become clear in the near future. But a critical look at the Nashville Police Department reveals that suppressing the anti-white manifesto would have fit right into the mission at a local level.
Drake was recently in the news after his son, John Drake Jr., shot two officers during a crime spree in the area. The younger Drake was a career criminal who met his end last month during a car chase with the police. "Despite my efforts and guidance in the early and teenage years, my son, John Drake Jr., now 38 years old, resorted to years of criminal activity and is a convicted felon," the chief said during the manhunt.
An October Associated Press report highlighted Drake's relationship with his son. It was titled, "Nashville police chief has spent a career mentoring youths but couldn't keep his son from trouble."
Nashville Police Chief John Drake has spent much of his career trying to steer young people away from crime. Inspired by mentors who helped him as a young man, Drake has tried to pay it forward.

But sadly, he was unable to keep his own son out of trouble.

…

Drake Jr. pleaded guilty to felonies for a 2008 aggravated rape and a 2017 aggravated assault, court records show. He has faced a variety of criminal charges over a span of more than 17 years, with a mix of convictions and dismissals.

In the aggravated rape case, Drake Jr. was sentenced to eight years in prison in 2009 and was released in 2015 to community supervision for life, said Tennessee Department of Correction spokesperson Dorinda Carter. The aggravated assault case resulted in a six-year sentence in 2018, a split confinement in which a judge ordered him to serve a year in jail and the rest of the sentence on probation, Carter said.

According to an arrest affidavit in the 2017 aggravated assault, Drake Jr. attacked his then-girlfriend while the child they had together was in the car with them. The woman told police he choked her until she lost consciousness and later hit her when she awoke in the street and tried to defend herself. Two weeks later, an officer had to chase down Drake Jr. as he fled his arrest on the outstanding aggravated assault warrant, an affidavit shows
Despite his failure with his own son, Drake wants police to follow his example of being a mentor rather than a warrior.
"I wanted to get away from the warrior mentality, to the guardian," he said. "We are here to help you. We want to have movie night with you. We want to have ice cream day. We want to tutor you and get to know your family."
Drake became police chief in 2020. The George Floyd revolution catapulted him into power. Steven Anderson, the previous white police chief, retired after facing pressure over the department's apparent lack of diversity and alleged harshness toward black criminals. Several city council members demanded his resignation after Nashville police issued arrest warrants for activists accused of organizing local BLM riots. One of those activists was Justin Jones, who became famous this year as one of the Tennessee lawmakers who aided gun control protesters in disrupting a legislative session. Police later withdrew the warrants, despite ample evidence that the activists engaged in illegal activity, after community backlash. Anderson soon retired, and the mayor searched for a chief who would be more amenable to woke demands.
Leaders found their pick in Drake, a long-time veteran of the MNPD.
As interim police chief following Anderson's resignation, the black cop spoke at BLM protests and presented a softer attitude towards the agitators. He pledged that he would crack down on "overpolicing" and boost diversity.
Drake said diversity was "severely lacking" within the department. He said he started a recruitment unit to grow the number of women and minorities working on the force. He also hireda chief diversity officer to work with the oversight board and activist groups.

"This is the direction I want to go," Drake said. "This is my strategic plan."
Drake told the Nashville Scene in 2021 that he openly supported Black Lives Matter:
So I view the movement, not the riots, as what was needed. But I view the movement as something that was needed to get the attention of law enforcement around the country and to seek the necessary reforms. I feel there are some police departments that don't have policy and procedure that's as up to date as ours is, and I think that spurred that movement, to have more agencies have up-to-date policies and procedures and training methods. And we've even looked at ours too. We've updated ours to be even better than what we were. From a law enforcement executive [perspective], I view it as something that was needed. Something that was long overdue. But I think in the future it is going to help us go a long way.
He also said in the same interview:
I try to promote, every opportunity I can, any minority or woman within the police department.
When he got the job in late 2020, he told local media that his top priority was increasing diversity. He soon created a "chief diversity officer" and kicked white males out of leadership roles.
When former Chief Steve Anderson left the department over the summer, three of the five deputy chiefs at the Metro Nashville Police Department were white men. Chief John Drake, who was officially appointed by the last mayor month, announced this week that he would promote three new deputy chiefs — two Black men and a white woman.
Drake also appointed a Black man to serve as his chief of staff. That's a new position that will help with both investigations and community engagement. Now, five of the six deputy chiefs are black or women.
Plus, Drake's new community engagement team includes black, Latino, Kurdish, Vietnamese, and LGBT officers. The 15-member unit is led by the department's new chief diversity officer, who will also serve as a liaison to the Community Oversight Board.
Drake imposed drastic changes on the department to reach his diversity goals. This included lowering standards and other policies that would decrease police effectiveness.