You knew this was going to happen. democrat butts are just oozing hurt. And as I predicted, they are all firing off salvos at Donald Trump. Witness:
The message of March 16, 2018, is that President Trump demands retribution in its most merciless form for official mistake or misconduct. Noted.

— David Frum (@davidfrum) March 17, 2018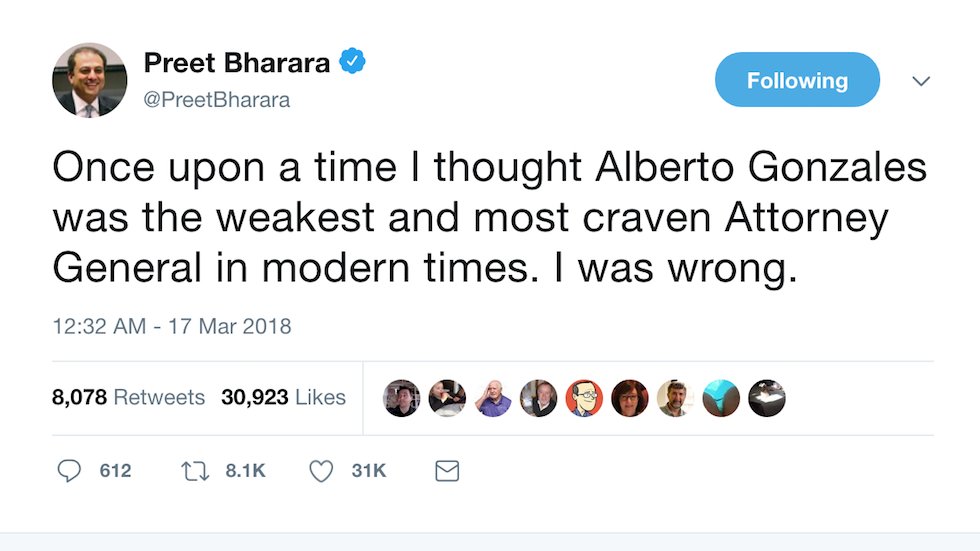 This nitwit actually threatens the President.
Gloat now, but you will be fired soon. And it's not going to be done cowardly, as you've done to so many who've served you. There's a storm gathering, Mr. President, and it's going to wipe out you and your corrupt organization all the way down to the studs. https://t.co/I0UlNAlwxI

— Rep. Eric Swalwell (@RepSwalwell) March 17, 2018
This guy is a closet Communist who spied on Congress and then lied to Congress.
When the full extent of your venality, moral turpitude, and political corruption becomes known, you will take your rightful place as a disgraced demagogue in the dustbin of history. You may scapegoat Andy McCabe, but you will not destroy America…America will triumph over you. https://t.co/uKppoDbduj

— John O. Brennan (@JohnBrennan) March 17, 2018
As democrat hacks are wont to do, Schmidt unloads aimlessly.
This American citizen demands to know the precise evidence that led to the termination of a 21 year FBI senior leader with a reputation for probity and rectitude two days before his reaching pension eligibility. Disgraceful. This is an abuse of power and pure bananarepublicanism

— Steve Schmidt (@SteveSchmidtSES) March 17, 2018
This guy is all about technique. He seems to be an advocate for disingenuousness.
Dem lawmaker tears into Trump: He's vandalizing our democracy https://t.co/knPVldC4Sp pic.twitter.com/3wCqBSTL7V

— The Hill (@thehill) March 17, 2018
John Garamendi sounds like he just sucked down a Red Bull:
Friday on CNN's "Situation Room," Rep. John Garamendi (D-CA) said President Donald Trump was "a very serious security threat" to the United States.

When asked about Stormy Daniels, Garamendi said, "I don't know. This whole thing is spinning out of control. We have the president of the United States in a situation where his entire White House is falling apart. And just yesterday, we learned that Russia is hacking into our essential utilities, nuclear power plants, on and on and on. This presidency is a very serious security threat to the United States. If that security treat goes to these women, it is just one more thing. I have to say. It is time to get this guy out of there."
And here's one of useful idiots of Connecticut who seems to lack a basic knowledge of civics:
McCabe firing is an undisguised attack on Special Counsel investigation – attempting to undermine him as a witness. Added evidence of obstruction of justice. https://t.co/3cvhLlTJom

— Richard Blumenthal (@SenBlumenthal) March 17, 2018
Once again, it wasn't Trump who fired McCabe, It was Jeff Sessions, acting on the recommendation of the FBI Office of Professional Responsibility.
In his statement Sessions said: "After an extensive and fair investigation and according to Department of Justice procedure, the Department's Office of the Inspector General (OIG) provided its report on allegations of misconduct by Andrew McCabe to the FBI's Office of Professional Responsibility (OPR)."

"The FBI's OPR then reviewed the report and underlying documents and issued a disciplinary proposal recommending the dismissal of Mr. McCabe. Both the OIG and FBI OPR reports concluded that Mr. McCabe had made an unauthorized disclosure to the news media and lacked candor — including under oath — on multiple occasions," the statement continued.

"The FBI expects every employee to adhere to the highest standards of honesty, integrity, and accountability. As the OPR proposal stated, "all FBI employees know that lacking candor under oath results in dismissal and that our integrity is our brand," Sessions said.

"Pursuant to Department Order 1202, and based on the report of the Inspector General, the findings of the FBI Office of Professional Responsibility, and the recommendation of the Department's senior career official, I have terminated the employment of Andrew McCabe effective immediately," the Sessions statement said.
The OPR handed down its recommendation in time for McCabe to be denied his pension. Without a doubt there was a reason for that. At Twitter, John Cardillo posted a great tweet;
Democrats, 3/15/2018: "The FBI is a sacred institution, they're beholden only to the law, not Trump. Trump is going down!!"

Democrats, 3/17/2018: "The FBI are Trump puppets who framed #McCabe for doing his job!!"

— John Cardillo (@johncardillo) March 17, 2018
Last night Laura Ingraham reminded us of a McCabe promise.
https://twitter.com/PoliticalShort/status/975020785382207493
Pass the popcorn!
At the moment people on the left are getting heated up about McCabe writing some memos of his own about Trump. They are of no consequence as McCabe was terminated for lying and is useless as a witness.
What seems lost to the left is that in casting invective at Donald Trump democrats are accusing the FBI OPR and the DOJ IG of corruption. They are in essence claiming that both entities are doing the bidding of Trump. They are accusing the OIG and the OPR of colluding with Trump.
Ironic as it is, that's not going to sit well. Seems to me this hasn't really been thought out.
Sara Carter says this is only a small piece of what's coming. I believe it.