The former security officer at the Libyan embassy testified today in front of Congress and it was brutal. Much of his complaints were because of the politics inside the State Department that he constantly had to fight against: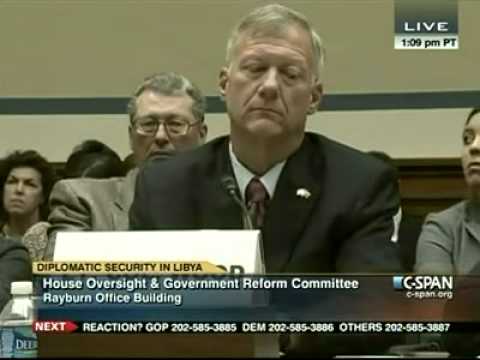 The former regional security officer in Libya, Eric Nordstrom, recalled talking to a regional director and asking for twelve security agents.

"His response to that was, 'You are asking for the sun, moon and the stars.' And my response to him – his name was Jim – 'Jim, you know what makes most frustrating about this assignment? It is not the hardships, it is not the gunfire, it is not the threats. It is dealing and fighting against the people, programs and personnel who are supposed to be supporting me. And I added (sic) it by saying, 'For me the Taliban is on the inside of the building.'"
Another Commander of Security:
Lieutenant Colonel Andrew Wood, the commander of a Security Support Team (SST) sent home in August – against his wishes and, he says, the wishes of the late Ambassador Chris Stevens – said "we were fighting a losing battle. We couldn't even keep what we had."
So the State Department played politics but was it because of money?
"It has been suggested that budget cuts are responsible for a lack of security in Benghazi, and I'd like to ask Miss Lamb," said Representative Dana Rohrabacher (R., California). "You made this decision personally. Was there any budget consideration and lack of budget which lead you not to increase the number of people in the security force there?"

"No, sir," said [Charlene] Lamb.
But their testimony was equally damaging to Obama and crew.
…Wood said that when he heard of the attack on the Benghazi post on September 11, it was "instantly recognizable" that it had been a terrorist attack.

Why?

"Mainly because of my prior knowledge there," Wood said. "I almost expected the attack to come. We were the last flag flying. It was a matter of time."
It was instantly recognizable as a terrorist attack by those who were in charge of security there but Hillary, Rice and Obama all blamed it on some youtube video for days after the incident.
What did they know and when did they know it?
Exit quote:
"Now this was a massive attack, no doubt bout it. We are getting new details. And I believe, Mr. Chairman, the reason we have those details is because of this hearing," he said. "Mysteriously, the state department decided to give a press briefing last night. We weren't invited. Certain news outlets weren't invited. Any reasonable person looking at the security situation in Libya had to come to the conclusion that it was tumultuous at best."